When you feel grounded and centred,  you make good decisions.
Clear choices will open you – like a butterfly spreading its wing you receive more. More energy, heightened awareness, fresh opportunities.  
So why on earth do we avoid planting our feet firmly on the ground? Because generally, we live in our minds, trying to figure things out. Processing – analysing – reasoning every angle.
Alternatively, try GROUNDING. Ground firmly into the core of your life and you will be surprised to see that a new window of opportunities will surface. These openings bubbling up from your inner knowing and creating a gap from where you can receive.  It can also be called surrender or trusting that any disconnect will be neutralised. This is the place where you can create better choices- clearer decisions.
Feeling grounded in your home
How does this cross over into your living environments and why is Feng Shui relevant for grounding? Simply because the centre of the house is like the grounding stone. It's the Yin / Yang plug pumping the life force throughout the whole of the house. This Tai Chi connection ripples up to cosmos above and down to earth below. In other words, it is the engine room. Recognising this can be so empowering and it gives you tangible processes to implement. The momentum generated from awareness of placement and also the removal of clutter in your living spaces is so electric.
Where is the central core in your home? Perfect, if it's the kitchen area as this is the hub of the home or where you prepare food. But more often it is a staircase generating a 2-way energy split or maybe a series of cupboards – blocked energy, creating distortion to energy flow.
The big picture looks at this –  a professional Feng Shui alignment balances the entire house, it looks at the vibrational frequency of all 9 Life sectors on the Bagua Energy Map. The spark comes when you have all sectors communicating together with the Grounding Stone as the heart centre.
Get started grounding yourself with Feng Shui tips for the home
But to start why don't you try this – have a go and play with small adjustments. Clearing, arranging – open yourself up to the experience of making small, intentional changes in your space. You'll experience how things that bring joy will ground you. You'll also get an awareness of what is draining you. It is so freeing to let go of past triggers and recognise simple actions can centre you and place you firmly in the now.
Step 1  – Could be your seasonal wardrobe or your jewellery. Start with something personal and this will give you confidence and a first-hand experience of how energy works. Put aside 7 days and shed something daily, this gives you time to evaluate the 'maybe' items. Remember a heart connection is the key. Keep a diary of any little changes or observe new opportunities that will unexpectedly surface. Be grateful for being current in this one small area of your life.
Step 2 – What grounding alignments can you introduce to the centre of the home?  Add the element of Earth, it's a major player. Magnetic earthy colours of beige-brown-greens and golds stabilise you. To strengthen this element, add Fire colours –  red- orange- hot pink. But do go easy on the fire colours if your energy is wobbly or the space is chaotic.
Other Grounding tips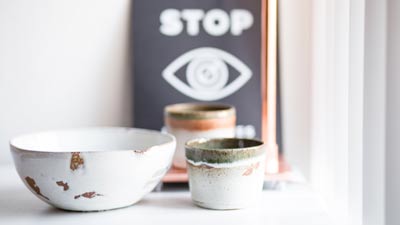 1 Add earthy materials, pottery – ceramics – rugs made from natural materials.
2 Decorate introducing squares and rectangular shapes.
3 Check the electricity sources and make sure all appliances are earthed and appliance plugs and extension cords are not overloaded.
4 Eat Grounding foods: root vegetable, servings of beets, carrots and parsnips are perfect foods.
6 Be grateful for the things you love and cherish. They provide nourishment for the soul and puts you in the mindset where you can receive more of the same.  
7 Have quite zones in the home where you turn off cell phones and laptops. This place is strictly for self-reflection, preferably located in the self-knowledge sector of the home.  
8 Walk barefoot in the garden. Stroll through local parks and beaches. These things anchor you globally to your part in the world.
A good link for added information  http://www.care2.com/greenliving/stabilize-your-life-by-grounding-your-home.html
Feet firmly on the ground, focused ideas and supportive living spaces are the key to self-empowerment. Grounding and landing put you in the driver's seat.
Try these simple Feng Shui tools and remember changes you make in the home will correspondingly ripple through into your body –  inner / outer duality –  Expert help is always available, contact Equate Aligned Environments.