Winter is the time to find that warm spot and curl up with a book. Or better still, a pen and paper to write what is on your mind. I've talked before about changing your perspective on life issues and ways you can approach things that need tweaking in your life. This isn't a 'something that is broken' scenario. Rather, take a deep breath and write how you are feeling.
2020 is the year to really question habits and look at what you do. It's a good time to reevaluate your 'shoulds', and perhaps change the order of how you do things. The COVID Lockdown has given us a taste of really looking at the status quo and experience. For example, we got to find out what downtime feels like and what relaxing, just being means. It also gave us the gift of no conflicting agendas.
How can Feng Shui help you embrace the gems you have discovered during this time?
Energetically understanding your personality really helps with this. And this is where the five elements really come into play.
Freedom to have that honest conversation and right in the comfort of your favourite couch is my point. Feng Shui works when you find the area in your home that fits you. No need to align the whole house — just where the energy is flowing and supporting you emotionally for a certain purpose. For example, you can boost your Creativity, or your Health, Family Harmony or Financial Success. Each has a Zone according to your astrological coordinates.
The Water Element Thinker

This layout would really appeal to a Water Element Person — blues, whites, and zig zap patterns. Water babies like space to go with the flow and importantly sense spatial clarity. A corner like this would provide the opportunity to float and unconsciously scheme new pathways. Adding touches of personal favourites – special journal, favourite markers, cell phone to reference pictorial journaling. Basically surrounding themselves with comforting touchstones.
The Wood Element Planner
For Wood Element planners' colours would be brighter. They crave a much more structured layout with lots of matter-of-fact textile choices. Wood Element people are planners and like to have many projects on the go. Bag ready, nature by their side and motivated to start work on their personal goals. Planning their goals may happen in more than one area of the home and these spaces not as personal, with colleagues or family included in your goal setting.
The Metal Element Organiser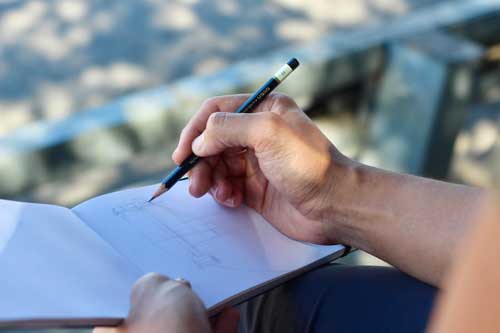 Metallers revel in structured planning methods for goal setting. They often sketch and draw defined boundaries around projects. There are always detailed logical steps to their critical path. Planning spaces within the home will have a more architectural feel and will be organised – very organised.
Earth Element People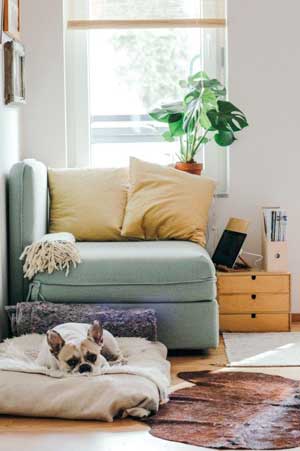 Like to be grounded and snug with favourite things around them and at no surprises at arm's length. They are logical planners, practical, solid, and reliable pathways. When it comes to getting them off the couch the Goal must be full-proof and lucrative.
Fire Element Creatives
Creative planners and big on bold goal-setting, our Firies are not as precious about outcome. They like to see what surfaces and are happy to change paths at the last minute – very futuristic and visionary goal setting. Impatience can be an issue and they often struggle with timing issues.
Personalised Energy Maps for You
The energy Feng Shui generates is malleable and relates to the compass directions within the home. These spaces can be plotted and customised for you personally. Aligning you, your element helps to support the vibrations that you resonate with. This flow is Feng Shui bliss and when you are in that sweet spot, doors will open to support your planned vision.
An Energy Map is a personalised location chart highlighting the correct directional locations for you. This is a powerful tool to counteract the negative forces that are depleting your energy field. Based on your astrological birthdate, the map provides you with:
—where to sit or work and puts you in your correct location flow,
—where to cook and where to relax
—which direction favours you spiritually and,
—where to boost Abundance and Prosperity.
This provides all positive boosts for your health and wellbeing. The Energy Map can be prepared so it stands alongside your Personal and Career Goals.
The Energy Map is valuable for information when:
—Buying a house,
—office or home renovation,
—heath and relationship matters,
—looking for the right job,
—or for financials gains.
A Basic Energy Flow Plan costs $250. This includes an online Skype Session – you provide me with information and details of why you are wanting this service, the areas of your life of concern and what you want me to focus on. When this is complete I will email the information to you. Simply reach out to me via my contact form and we will arrange a date.